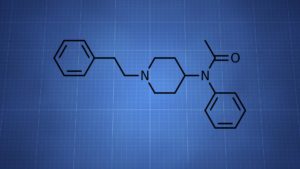 Acetylfentanyl is a synthetic opioid that was originally described in the 1960s. It's less potent than fentanyl and more potent than morphine.
The drug has contributed to many fatalities, often due to it being mixed with heroin or misrepresented as heroin.
In terms of effects, it appears similar to fentanyl.
---
Acetylfentanyl = Acetyl fentanyl; Desmethyl fentanyl; AF; N-(1-phenethylpiperidin-4-yl)-N-phenylacetamide
PubChem: 527015
Molecular formula: C21H26N2O
Molecular weight: 322.452 g/mol
IUPAC: N-phenyl-N-[1-(2-phenylethyl)piperidin-4-yl]acetamide
---
Dose
Not available due to a lack of information.
It's most often used intranasally, intravenously, and sublingually. Some inhalation use has also been reported.
---
Timeline
Not available due to a lack of information.
The tentative duration is 1 – 4 hours with any of the aforementioned routes of administration.
---
Experience Reports
N/A
---
---
Effects
Positive
Euphoria
Mood lift
Pain relief
Sedation
Negative
Respiratory depression
Drowsiness
Unconsciousness
Constipation
Some reports indicate it's not particularly euphoric relative to typical recreational opioids. It shares this quality with fentanyl.
It appears easier to encounter significant respiratory depression with acetylfentanyl in an overdose than with some other opioids. This fits with its comparatively low safety ratio (LD50:ED50) in animal tests.
---
Chemistry & Pharmacology
Chemistry
Acetylfentanyl is a synthetic opioid of the phenylpiperidine class.
It's structurally similar to fentanyl, with a phenylacetamide group in place of fentanyl's phenylpropanamide. The end result is that acetylfentanyl drops a methyl group, hence its "desmethyl fentanyl" name.
The drug has been found to occur as a process impurity when making fentanyl citrate. It's been detected at around 0.04%.
Pharmacology
Opioid receptor binding, specifically at the u-opioid receptor, has been demonstrated. It's known to be an agonist.
Antinociceptive activity connected to opioid agonism was shown in animals.
Acetylfentanyl alleviated morphine withdrawal symptoms in the rhesus monkey. This was achieved with 0.5 mg/kg (subcutaneous), which appears to be equipotent to 3 mg/kg of morphine.
The drug also achieved full inhibition in the mouse vas deferens stimulated twitch test. A delta opioid antagonist didn't affect the inhibition, whereas a u-opioid antagonist reduced the activity. Naltrexone reversed the inhibition.
Using the acetic acid writhing test in mice, acetylfentanyl was shown to be 15.7x more potent than morphine for analgesia. It was 0.29x as potent as fentanyl. The drug had an ED50 of 0.021 mg/kg.
---
History
1960s
Acetylfentanyl was first mentioned in patents from a Belgian company, Research Laboratorium Dr. C. Janssen (Janssen Pharmaceutica).
Its analgesic activity was described in a patent from Paul Janssen, founder of Janssen Pharmaceutica, in 1968.
2010s
Nearly all of the drug's history comes from the 2010s, particularly from 2012 onward.
2012 is when discussion about the substance increased online and reports of seizures appeared.
Some of the first reports about its use came from Russia, where acetylfentanyl was detected in smoking "spices" in 2012. At least 12 deaths, some involving morphine, ended up being reported in that region.
Most of the fairly large shipment seizures have involved packages originating in China.
According to the EU Early Warning System Network, the first EU seizure was reported in Poland in 2014. Three seizures were reported in Finland in 2014, two had China as the country of origin and one listed Belgium.
In late April 2013, police in Montreal (Canada) raided seven locations and recovered 300,000 drug tablets. Of those, 11,000 were found to contain acetylfentanyl. A separate 3 kg of acetylfentanyl powder was also confiscated.
Japan first reported it in products in 2014.
Belgian Customs Services reported four seizures around June 2015 totaling 114 grams:
Seizure 1

Sourced in China, headed to Finland

Seizure 2

Sourced in China, headed to France

Seizure 3

Sourced in China, headed to Germany

Seizure 4

Sourced in China, headed to Germany
The EMCDDA issued an alert about the drug in September 2015 following 22 confirmed acetylfentanyl-related deaths in the EU. 20 cases were in Sweden and the other two were in the UK.
It was seized for the first time in West Australia in November 2015. Acetylfentanyl was present in tablets designed like PEZ candies.
United States
The first lab submission involving acetylfentanyl occurred in Maine in April 2013, according to the National Forensic Laboratory Information System (NFLIS).
Based on data from the NFLIS, the DEA's STARLiMS system, and federal/state/local labs, submissions increased between 2013 and 2014.
50 fatalities involving acetylfentanyl were reported in 2013 just in Rhode Island and Pennsylvania. It appears the drug was often mixed with heroin or sold in place of heroin.
Florida reported a rise in fentanyl and acetylfentanyl-related deaths after late 2013. For example, 4 out of 37 heroin-related deaths in Tampa between late 2013 and 2014 involved acetylfentanyl.
---
Legal Status
United States (as of January 2017)
Schedule 1
Controlled (list may not be complete)
Austria, Canada (as a fentanyl analog), China, Cyprus, Estonia, Finland, Ireland, Japan, Latvia, Lithuania, Lithuania, Norway, Poland, Sweden, UK
---
Safety
Too little is known about the drug to understand its safety, especially with chronic use.
LD50
A test in mice showed an LD50 of 9.3 mg/kg oral. That has a potential human equivalent of 0.744 mg/kg, but that dose could certainly be inaccurate.
That LD50 results in a worse safety ratio than is seen with morphine, meaning the dangerous overdose level is closer to the psychoactive level.
Overdose
Using too much could lead to a fatal level of respiratory depression. The drug can also result in unconsciousness, which can be dangerous on its own.
Cocaine, morphine, ethanol, and benzodiazepines have commonly been found in overdoses cases.
Risky combinations (list may not be complete)
Any other depressants, including ethanol, opioids, and benzodiazepines.
Possible overdoses
Sweden reported nine analytically confirmed intoxications between April 2015 and November 2015.
Those cases involved the following:
6 had unconsciousness
6 had respiratory depression
5 had miotic pupils
5 had tachycardia
Fatality overviews
Three cases in North Carolina
Blood concentration range: .330 – .410 ug/mL
14 cases in Rhode Island (March to May 2013)
Other drugs present: Cocaine (57%), morphine (36%), ethanol (36%), and benzodiazepines (21%)
18 US cases
Average whole blood concentration: .160 ug/mL

Range: 0.00058 to .730 ug/mL
Overdoses
Case 1
36-year-old male
Patient's wife found him with difficulty breathing and largely unresponsive
Presented to ED via ambulance

Altered mental status
Glasgow Coma Score (GCS) of 6
Oxygen saturation: 85%

2 mg of IV naloxone allowed him to converse
Mental status declined again

Another 2 mg of naloxone improved his status
He ended up with a GCS of 15

Said he purchased "synthetic opium" online and inhaled it using an e-cigarette
Eventually he received a third 2 mg dose of naloxone to counter another decline in mental status
Fatalities
Case 1
28-year-old male
Unresponsive on bathroom floor
Post mortem

Blood: 0.235 ug/mL
Urine: 0.234 ug/mL
Case 2
55-year-old male
Found unresponsive in recliner
Brought to intensive care unit, but he died the following day
Determined to have died from oxycodone and acetylfentanyl
Concentrations

Oxycodone (blood): 0.08 ug/mL
Acetylfentanyl (blood): 0.31 ug/mL
Case 3
26-year-old female
Found dead in bathroom, sitting on toilet with needle in her arm
History of heroin use
Determined to have died from morphine and acetylfentanyl
Post mortem

Morphine (blood): 0.07 ug/mL
Acetylfentanyl (blood): 0.40 ug/mL
Case 4
30-year-old male
Found dead in bed in motel room
History of heroin use
Determined to have died from alprazolam and acetylfentanyl
Post mortem

Alprazolam (blood): 0.02 ug/mL
Acetylfentanyl (blood): 0.56 ug/mL
Case 5
28-year-old male
Found dead in motel room
History of heroin use
Post mortem

Alprazolam (blood): 0.23 ug/mL
Acetylfentanyl (blood): 0.60 ug/mL
Case 6
Japan 2015
Acetylfentanyl and a-PHP
Post mortem

Acetylfentanyl (blood): 0.069 ug/mL
a-PHP (blood): 0.413 ug/mL
Case 7
34-year-old male
Found by mother in his bed
Cause of death determined to be lung edema due to acetylfentanyl inxotication

Possible contributing factors of preexisting hepatic and cardiac dysfunction

Believed to have taken it intranasally
No other drugs found
Post mortem
Case 8
24-year-old male
Found behind bedroom closet door by mother

Unresponsive and evidence of IV use

Syringe collected was positive for acetylfentanyl
Post mortem

Blood (peripheral): .260 ug/mL
Blood (central): .250 ug/mL
Case 9
56-year-old male
Mirtazapine, pregabalin, sertraline, and olanzapine also detected.
Cause of death determined to be:

Acute cardiac failure
Acetylfentanyl overdose
Ischemic heart disease

Post mortem
Case 10
20-year-old male
Found by mother unresponsive on bed
Post mortem

Blood (central): .285 ug/mL
Blood (peripheral): .192 ug/mL
Case 11
50-year-old female
Found unresponsive on bed
Also positive for venlafaxine, chlordiazepoxide, and nordiazepam
Post mortem

Blood (central): .210 ug/mL
Blood (peripheral): .255 ug/mL
Case 12
Male in 30s
Found at home, not breathing
Admitted to hospital
Liquid in syringe and powder in plastic bag

Both positive for acetylfentanyl and 4-methoxy-PV8

Post mortem (acetylfentanyl)

Blood (central): .239 ug/mL
Blood (peripheral): .153 ug/mL

Post mortem (4-methoxy-PV8)

Blood (central): .960 ug/mL
Blood (peripheral): .389 ug/mL
---
References
(2016) A fatal poisoning case by intravenous injection of "bath salts" containing acetyl fentanyl and 4-methoxy PV8.
(2016) Old opioids, new concerns: the case of acetylfentanyl
(2016) An autopsy case of acetyl fentanyl intoxication caused by insufflation of 'designer drugs'.
(2016) Fatal Intoxication with Acetyl Fentanyl.
(2016) Intoxications involving the fentanyl analogs acetylfentanyl, 4-methoxybutyrfentanyl and furanylfentanyl: results from the Swedish STRIDA project.
(2016) EMCDDA–Europol Joint Report on acetylfentanyl
(2016) Acetylfentanyl: An Emerging Drug of Abuse.
(2016) Acetyl Fentanyl Toxicity: Two Case Reports.
(2015) An Acute Acetyl Fentanyl Fatality: A Case Report With Postmortem Concentrations.
(2015) Identification and analytical properties of acetyl fentanyl metabolites
(2015) Acetyl Fentanyl, a Novel Fentanyl Analog, Causes 14 Overdose Deaths in Rhode Island, March-May 2013.
(2015) Acetylfentanyl – Critical review report
(2015) Postmortem Toxicology Findings of Acetyl Fentanyl, Fentanyl, and Morphine in Heroin Fatalities in Tampa, Florida
(2014) The potential threat of acetyl fentanyl: legal issues, contaminated heroin, and acetyl fentanyl "disguised" as other opioids.
(2013) Acetyl Fentanyl: New Drug of Abuse More Common than Assumed
(2008) Studies on 1-(2-phenethyl)-4-(N-propionylanilino)piperidine (fentanyl) and its related compounds. VI. Structure-analgesic activity relationship for fentanyl, methyl-substituted fentanyls and other analogues