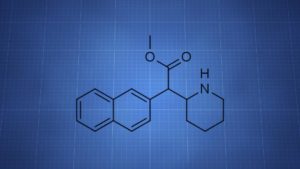 HDMP-28 is a stimulant that appeared on the research chemical market in 2014. It is of little recreational value and it has only been used to a limited degree.
The drug's structure is similar to that of methylphenidate, with both drugs functioning as monoamine reuptake inhibitors. Unlike methylphenidate, it does affect serotonin.
Little is known about the drug and there are still just a small number of experience reports.
---
HDMP-28 = methylnaphthidate
PubChem: 49823708
Molecular formula: C18H21NO2
Molecular weight: 283.36484 g/mol
IUPAC: methyl 2-naphthalen-2-yl-2-piperidin-2-ylacetate
---
Dose
Oral (tentative)
Light: 10 – 20 mg
Common: 20 – 40 mg
Strong: 40 – 50 mg
Intranasal (tentative)
Light: 10 – 20 mg
Common: 20 – 30 mg
Strong: 30+ mg
---
Timeline
Oral
Total: 4 – 7 hours (2 – 4 hours with light or low-common doses)
Onset: 00:15 – 00:30
---
Experience Reports
---
---
Effects
Positive
Stimulation
Mood lift (fairly reliable, but moderate)
Increased motivation
Increased focus
Music enhancement (minor)
Euphoria (minor)
Negative
Appetite reduction
Increased heart rate
Increased blood pressure
Functional stimulation is the primary effect offered by HDMP-28, though some level of mood lift is common. Music enhancement has been reported in a minor way.
The comedown effects are usually no greater than mild fatigue.
---
Chemistry & Pharmacology
Chemistry
It is a piperidine class stimulant that shares much of its structure with methylphenidate. They differ in that methylphenidate's benzene is swapped for a larger naphthalene moiety.
Pharmacology
HDMP-28 functions as a triple reuptake inhibitor (TRI), meaning it affects dopamine, serotonin, and norepinephrine. It is biased towards dopamine and serotonin, with the greatest affinity for the dopamine transporter.
---
History
Early 2000s
Investigations with the drug began, though it wasn't extensively studied. Some pharmacological information became available, revealing it was a TRI.
2014
Recreational use didn't occur until 2014, at which point it was sold by some research chemical (RC) vendors and reports of its effects appeared.
2014 – 2015
Sales continued in the RC market. HDMP-28 failed to take off given its fairly uninteresting effects.
2016
Use hasn't grown, though it remains available from some sources.
---
Legal Status
United States
Uncontrolled
Controlled
Switzerland
---
Safety
Little is known about the drug, making it difficult to say how safe it is, particularly with long-term use.
Due to this lack of information, it's best to use the drug at the lowest possible dose, as infrequently as possible, and without combinations.
---
Test Results
---
References
(2003) The reinforcing efficacy of psychostimulants in rhesus monkeys: the role of pharmacokinetics and pharmacodynamics.