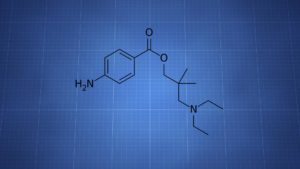 Dimethocaine is a local anesthetic and a stimulant that has some cocaine-like activity. It's generally reported to be weaker than cocaine and amphetamine.
A minimal amount of recreational use has been reported since the late 2000s.
The substance was previously used in the 1930s as an anesthetic.
---
Dimethocaine = Larocaine; 94-15-5
PubChem: 7177
Molecular formula: C16H26N2O2
Molecular weight: 278.396 g/mol
IUPAC: [3-(diethylamino)-2,2-dimethylpropyl] 4-aminobenzoate
---
Dose
Intranasal (tentative)
---
Timeline
Intranasal (tentative)
Total: 2 – 4 hours
Onset: 00:10 – 00:20
IV (tentative)
Total: 10 – 30 minutes
Onset: Within seconds
---
Experience Reports
---
---
Effects
Positive
Euphoria
Stimulation
Increased talkativeness
Mood lift
Negative
Tachycardia
Difficulty breathing
Chest pain
Vasoconstriction
Insomnia
Paranoia
Anxiety
There are a limited number of reports about the drug's effects. Most point to little activity or, at most, mild euphoria and mild stimulation.
Stimulation and euphoria offered by the drug is generally said to be weaker than what's offered by cocaine or amphetamine.
The local anesthetic effect generally leads to numbness in the nasal region when taken intranasally.
Some users have experienced fatigue and slight mental impairment when the effects dissipate and even a lasting CNS depressant effect into the following day. However, the lack of experience reports makes it difficult to tell how common these after effects are.
Animal studies
It had a memory impairing effect in mice in a maze test. This was hypothesized in the paper to come from a dopamine mechanism. Lidocaine, which lacks similar dopaminergic activity, didn't have the same response.
Greater locomotor activity and cocaine-like behavior effects were observed in mice.
Anxiogenic effects were seen at 10 mg/kg and 20 mg/kg in a maze test in mice.
Dimethocaine had some apparent dose-dependent antinociceptive effects in mice, including in writhing and hot-plate tests.
---
Chemistry & Pharmacology
Chemistry
Dimethocaine has a structure that's closer to procaine, a drug that lacks psychoactive effects, than cocaine. A major difference is that it lacks a tropane ring.
Pharmacology
It functions as a dopamine reuptake inhibitor. Possible actions at other sites haven't been examined.
The drug was only slightly less potent than cocaine for displacing mazindol at the dopamine transporter (DAT).
DA reuptake inhibition potency appears to go in this order: Cocaine > Dimethocaine > Tetracaine > Procaine > Chloroprocaine.
Dimethocaine elevated dopamine in the nucleus accumbens in rats. It's also been shown to elevate dopamine levels in the striatum.
EC500 (concentration for 500% basal level) in striatum
Cocaine: 15 uM
Dimethocaine: 57 uM
Procaine: 3.5 mM
Discriminative stimulus
It's been found to be 2-3x less potent than cocaine in some drug discrimination studies.
Dimethocaine fully substituted for cocaine when rats were trained to discriminate cocaine from saline. It also fully substituted when rats were trained to discriminate cocaine from procaine, further indicating cocaine-like effects.
Pharmacokinetics
Investigation of its pharmacokinetics in rats showed extensive metabolism. The most important phase 1 steps were hydroxylation and deethylation. The most important phase 2 steps were acetylation and glucuronidation.
In vitro tests found roles for CYP1A2, CYP2C19, CYP2D6, and CYP3A4. N-acetylation was carried out by NAT2, but not NAT1.
---
History
1930s
It was originally created by Hoffmann-La Roche Company and appeared on the market under the name "larocaine."
Early pharmacological information came from Fromherz in 1930. Dimethocaine was tested on rabbit cornea and on the spinal cord of dogs. It was more potent than cocaine and procaine.
Dimethocaine was used as an anesthetic, primarily in dentistry, ophthalmology, and otolaryngology.
It gained "considerable populariry" in the US and other countries between the early and late-1930s.
There are reports of it being used in many procedures. Schildbach (1931) performed over 350 operations of various kinds with it. Volkmann (1931) found a 1% solution was effective and a 10% solution subcutaneously was equal to a 20% solution of cocaine.
Balcarek (1931) reported it was their anesthetic of choice for ophthalmology.
An overview of its effects was published in 1935 by Leo Mayer from Northwestern University's Medical School (Department of Ophthalmology). He had received the drug from Hoffmann-La Roche for a trial in 1932.
1930s – 1940s
Its use was eventually abandoned by the 1940s, reportedly due to its psychoactive effects.
2000s to 2010s
Dimethocaine appeared on the EMCDDA's list of "synthetic cocaine derivatives."
Some of the earliest online reports were in 2008. Within a couple years it appeared in head shops and online stores around Europe.
Products in Ireland included Mind Melt, Amplify, Amplifier, Mint, and Mania. An analysis of substances confirmed dimethocaine's presence in Amplify and Amplifier. It was sometimes detected alongside an impurity, desethyldimethocaine.
Those who reported injecting either of those products reported a 3-6 minute "crazy rush" that could even surpass cocaine. That effect was reportedly followed by a few hours of feeling "stoned." Some people claimed it was stronger than any other stimulant they had used and provided a smooth, consistent experience.
Some users reported taking up to 5 to 10 grams per day of Amplify and Amplifier. Negative effects associated with the drugs included agitation, seizures, and psychosis. The comedown was associated with hallucinations, agitation, depression, suicidal thoughts, loss of awareness, loss of motor control, and paranoia.
A 2010 survey of 329 "legal high" users in Ireland found 3% reported using dimethocaine.
Another analysis of products from an online seller in the UK found that one of the dimethocaine products actually contained caffeine and lidocaine.
There have been multiple cases of other drugs being sold as dimethocaine, including tetracaine, lidocaine, ethylphenidate, caffeine, dimethylcathinone, and methiopropamine. Those reports appeared between 2010 and 2016.
---
Legal Status
United States (as of February 2017)
Uncontrolled
Controlled (list may not be complete)
Germany, Ireland, and Romania.
---
Safety
We don't have enough information to know how safe the drug is, especially with long-term use. It's wise to use the lowest possible dose as infrequently as possible and without combinations.
Lethal dose
LD50 values
Mouse (subcutaneous): 300 mg/kg (potential human equivalent of 24 mg/kg)
Rabbit (subcutaneous): 150 mg/kg (potential human equivalent of 49 mg/kg)
---
Cardiotoxicity is a concern with the substance and it's possible the drug poses similar (or greater) risks to cocaine.
---
Risky Combinations (list may not be complete)
Other stimulants, MAOIs, and tramadol.
---
References
(2014) Dimethocaine, a synthetic cocaine derivative: studies on its in vitro metabolism catalyzed by P450s and NAT2.
(2014) Dimethocaine, a synthetic cocaine analogue: studies on its in-vivo metabolism and its detectability in urine by means of a rat model and liquid chromatography-linear ion-trap (high-resolution) mass spectrometry.
(2014) Toxicokinetics of Emerging Drugs of Abuse: In vivo and in vitro studies on the metabolic fate of the cocaine-derived designer drug dimethocaine
(2014) New psychoactive substances legislation in Ireland – Perspectives from academia.
(2013) Miscellaneous Compounds
(2005) In vivo comparison of the reinforcing and dopamine transporter effects of local anesthetics in rhesus monkeys.
(1998) Memory-impairing effects of local anesthetics in an elevated plus-maze test in mice
(1996) Stimulant activities of dimethocaine in mice: reinforcing and anxiogenic effects.
(1996) The effects of systemic procaine, lidocaine and dimethocaine on nociception in mice.
(1995) In vitro and in vivo effects of cocaine and selected local anesthetics on the dopamine transporter.
(1993) Cocaine-like discriminative stimulus effects of procaine, dimethocaine and lidocaine in rats.
(1938) Hypersensitivity to larocaine
(1935) Larocaine, a new anesthetic